On Monday 19th September the nation paused to pay their respects to Her Majesty Queen Elizabeth II.  As well as being a sombre moment of reflection, the funeral was a chance for both Selston High School and Ashfield Post 16 to beam with pride as teachers and students alike watched one of their own take on the privilege and responsibility of acting as one of The Queen's Pall-Bearers.
Luke Simpson, a former student of both Selston High School and Ashfield Post 16's Uniformed Services performed his duties admirably. Alongside several of his comrades in 1st battalion Grenadier Guards carried Her Majesty's coffin from Westminster Hall to a gun carriage before escorting the coffin on its journey to Westminster Abbey.
John Maher, Headteacher of Ashfield School said:
"It is a source of great pride to the Ashfield School community and The Two Counties Trust that Luke took his place centre stage on this historic occasion and, with the world watching, carried out his duty so professionally."
While Head of Ashfield Uniformed Services, Julie Taylor added:
"I am so incredibly proud of Luke: for the high honour of being chosen as a pall bearer for Queen Elizabeth II, but also for the truly admirable way in which he executed those duties. He has certainly set the benchmark high for all subsequent Uniformed Services students and is an outstanding example of where dedication, hard work and commitment can take you."
All at The Two Counties Trust wish to express their pride and gratitude towards Luke on this tremendous achievement and would like to take the opportunity to thank him for his service to Selston, Ashfield and the rest of the nation.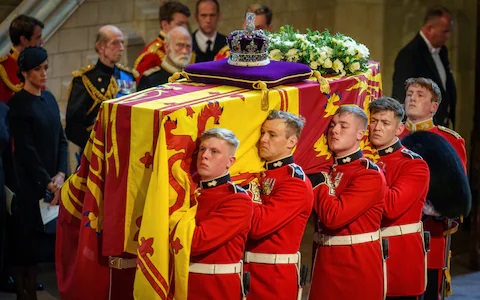 Luke Simpson 2nd from the left.