As the first term of the 2022-23 school year draws to a close, The Two Counties Trust would like to share with you a small measure of the successes from all schools across the Two Counties Trust.
There has been a lot happening at Ashfield School, but a particular highlight has been the drama department's spell bounding their production of Oliver! The winter show was performed across 4 evenings to a total of six hundred students, staff, and members of the local community. Former Ashfield student and celebrated playwright James Graham joined the audience for Friday evenings performance. Mr Graham addressed the student cast at curtain-call with high praise and has agreed to visit Ashfield's post-16 centre to speak with the Drama department on career opportunities within the creative sector.
The annual talent show has always been a highlight of Frederick Gent High School so it was wonderful to see if return after a hiatus due to the pandemic. The strength of talent for this competition is always extremely high with this year being no exception. The student band "The 5 of Diamonds" beat off tough competition to secure first place. Frederick Gent School is already looking forward to next year's event.
Friesland School has facilitated seminars from The Money Charity to ensure their older students are prepared for managing their own finances in the future. The school has also been visited by alumni Olivia Mason who has recently been a contestant on ITV's The Voice. Olivia met Friesland's Year 10-13 Performing Arts students where she performed her Voice audition song as well as a selection of her original music. Olivia also took the time to take a Q&A session with the students, giving them practical advice on the music industry, her own path and career possibilities in Performing Arts.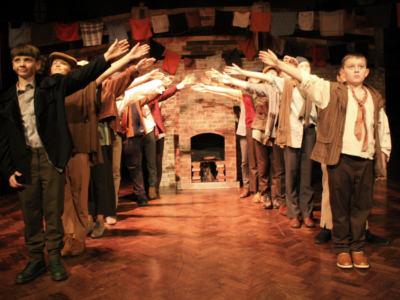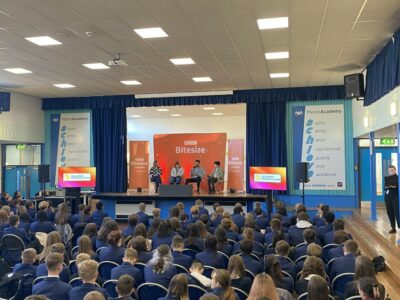 A new chapter of Heritage High School story has started with the appointment of Deb Elsdon as the new Headteacher. Speaking on her appointment Miss Elsdon said: "I feel very privileged and incredibly happy to be appointed as the Headteacher of Heritage High School. I am committed to inclusion, ensuring that all of our students are fully supported to achieve their very best and enhance their life choices. I look forward to working together with students, families and the community and embedding our values of ambition, teamwork and honesty."
One of the most valuable tools that students can utilise during exam season is the BBC Bitesize service. That's why it was a privilege to welcome the BBC Bitesize careers tour to Manor Academy. Students were treated to a panel discussion to talk about different career avenues within the BBC, in a hope to inspire students to become the next generation of reporters, producers, actors or any of the many avenues that television can offer as a career.
Every year Selston High School hosts an annual careers fair for their Year 9-11 students with this year being the largest ever! More than 35 colleges, employers and Apprenticeship providers attended this event. Over 500 students were given an opportunity to explore their options whether that be at a Post 16 centre or pursuing specific employment pathways. A Local employer who attended the day said "Many thanks for the warm welcome and the hospitality yesterday. The students are a credit to the school and were very appreciative and polite"
It was a proud moment for Springwell Community College when student Zoe was named Young Volunteer of the Year for her work contributing to the Springwell Community Arts Programme (SCART). The award was presented at the annual Voluntary Sector awards hosted by Chesterfield Volunteer Centre, in front of a packed audience at Chesterfield's Winding Wheel Venue.
It is a historic period for Swanwick Hall School as they celebrate their centenary school year. The truly momentous achievement was marked by the opening of their new centenary building which houses 18 new state of the art classrooms.
Wilsthorpe School has played host to a number of different events for The Two Counties Trust including our Black History Month Event which developed the knowledge and skills of the Trust's new Ambassadors of Change. Wilsthorpe also hosted the Faraday Challenge, an engineering event which saw five schools from The Two Counties Trust take part and compete in. Students worked independently of their teachers to create a prototype of a sensored conveyor belt. All 5 teams performed above the national average, with Wilsthorpe narrowly missing out on the winning spot.