Springwell Community College is constantly striving to develop its students not just from an academic perspective, but also as young people prepared for the world we share.
Recently seventy-four Year 7s and their Form Tutors took a trip to Lea Green to take part in a two-day trip containing a range of activities designed to teach the students on the values of teamwork and cooperation. Activities ranged from low ropes to a challenging and "extremely cold" stream walk.
After some time to recover from the Stream and a chance for a hot meal, students joined together for a game of "smuggler's run". Students formed teams as they attempted to smuggle as much "rum" as possible back to base, all the while avoiding the efforts of teachers in hiding who would ambush the groups in an effort to prevent the students from achieving their goals. Once the evenings event concluded, the reward of warm hot chocolate before bed awaited the students.
Day two saw the students gather in the Lea Green sport hall for some more activities, this time focusing along the themes of cooperation and coordination as they attempted to move a large Earth ball from one end of the hall to the other, the day was rounded off with a mat surfing session.
Students returned home tired but happy in the knowledge that by pushing themselves outside their comfort zone they had achieved a brand new experience. Staff attending the adventure remarked how proud they were of students, stating that they had given "100%" to the experience.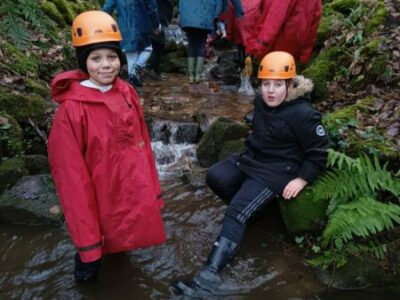 Students take on the "extremely cold" Stream Walk.