At The Two Counties Trust, we are committed to providing our students with the best possible education and helping them to develop the skills they need to succeed in their future careers. That's why we are proud to work alongside local communities to enhance life choices for our students. Recently, Friesland School had the pleasure of welcoming Dr Paul O'Hora, a scientist from Lubrizol, to deliver a lesson to two Year 10 classes.
Dr O'Hora's lesson aimed to put context behind the theory studied by students and show how it can be applied to real-life situations, specifically the testing of mechanical engine oil. This experience allowed students to see first hand the practical applications of what they learn in the classroom and provided them with valuable insights into the world of science and engineering.
During the lesson, students had the opportunity to engage in a Q&A session with Dr O'Hora, where they learned about different career paths in the science industry and the opportunities available at Lubrizol, both in Derbyshire and globally. For many students, this was an eye-opening experience and a chance to discover new possibilities in STEM subjects.
We believe that experiences like these are essential to inspiring and motivating our students to reach their full potential. We are incredibly grateful to Dr O'Hora and Lubrizol for visiting Friesland School and taking the time to speak to and inspire our students. We look forward to continuing to work with our local communities to provide our students with the best possible education and the tools they need to succeed in the future.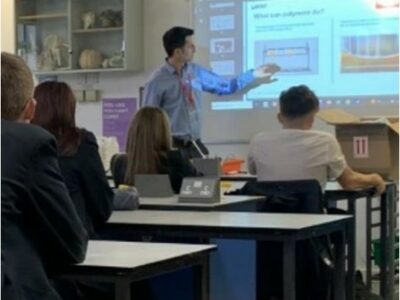 Dr O'Hora presents a lesson to a Year 10 Science class.